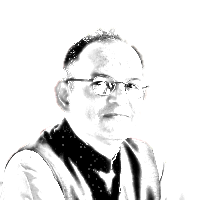 follow me on social media
Hailing from the industrial house of Saraf in Nagpur, Rishi Saraf gained experience as a partner in the mining firm RBSSN, Hospet; Salt manufacturing firm Shree Krishna Salt Works, Visakhapatnam; and Movie Hall Saroj Cinema, Nagpur until 1992.
In the year 1997 Rishi started out on his own in real estate investing, where he learnt the nitty-gritties of real estate sector, the types of property which give best return and all the footwork required toward owning and developing one, which rewarded him with excellent returns.
In the year 2005, Rishi setup a manufacturing facility to blend industrial oils and lubricants which catered to highly reputed and satisfied customers in Central India and Andhra Pradesh.
With this extensive knowledge, wide experience and excellent reputation Canary now offers Real Estate Services (hand-holding for buying, selling, developing and leasing requirements) and Connecting to experts (connect new entrepreneurs to some of the best people in the field to help put their ideas to work).
Rishi Saraf, Real Estate Agent Regn No A50500009459 with Maharashtra Real Estate Regulatory Authority.
MahaRERA website address : https://maharera.mahaonline.gov.in
The way of life at canary
God is in the detail.
Do the right things & really well.
Be straightforward and transparent.
Customer feedback - real estate

Sanjay Parchani, VP,  Aurionpro Solutions Ltd
It was good working with Rishi, He understood our requirements well and focused only on deliveries, within 1 visit we happen to like the property and closed it. Keep up the good work.
Jan 25, 2018

CA Hemant Lodha, MD SMS Envocare Ltd
Since last 14 years I have done lot of property deals and came across several real estate consultants but work of Mr. Rishi is par excellence and very professional. He exceeded my expectations. I wish him great success in his profession and life too.
Jan 25, 2018
Customer feedback - lubes
What some of our customers say about us & our earlier business of lubricants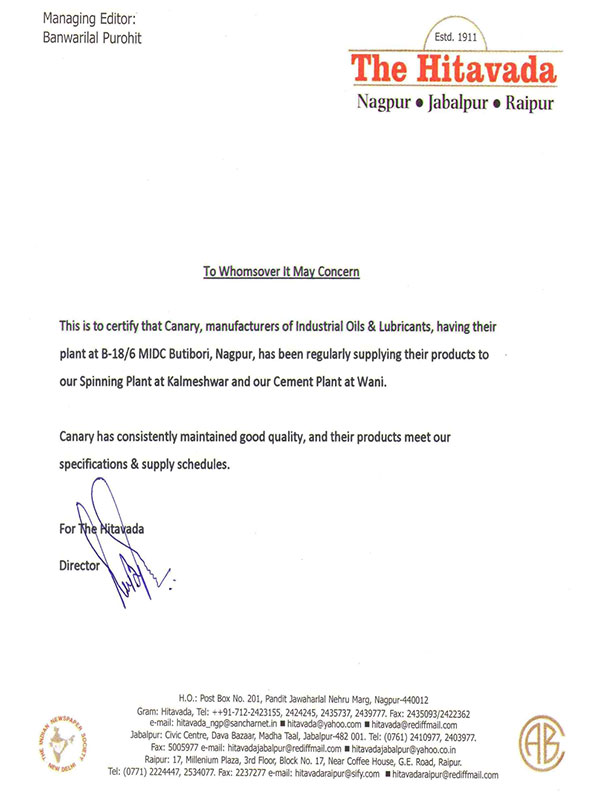 Hitavada, Central India's largest english newspaper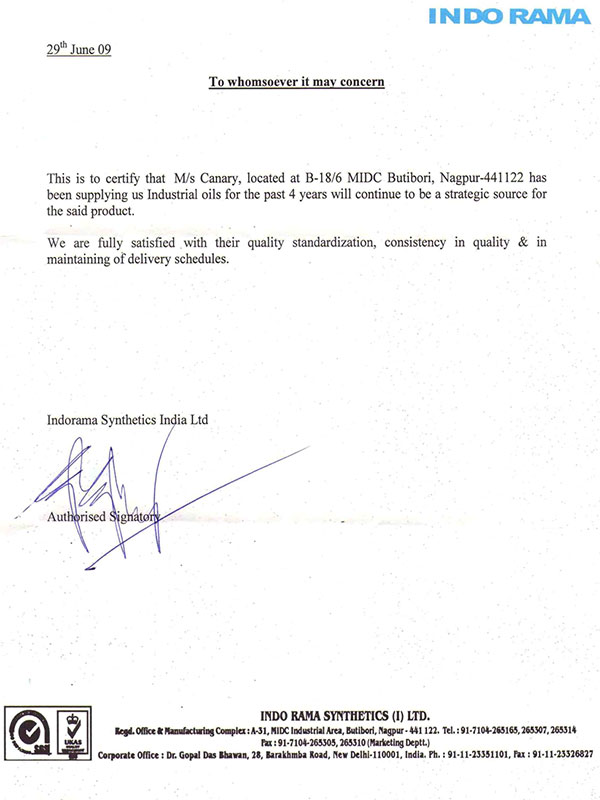 Indorama, India's 2nd largest polyester manufacturer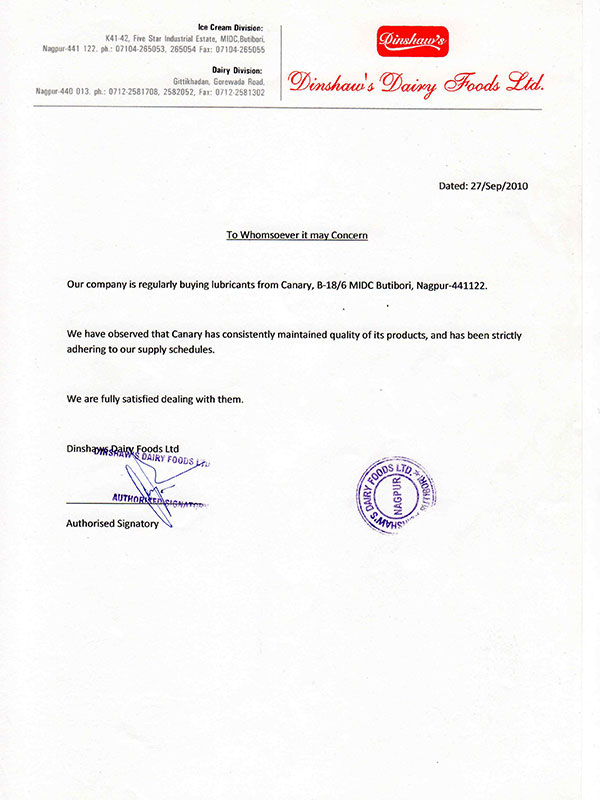 Dinshaws, Central India's largest milk & ice-cream manufacturer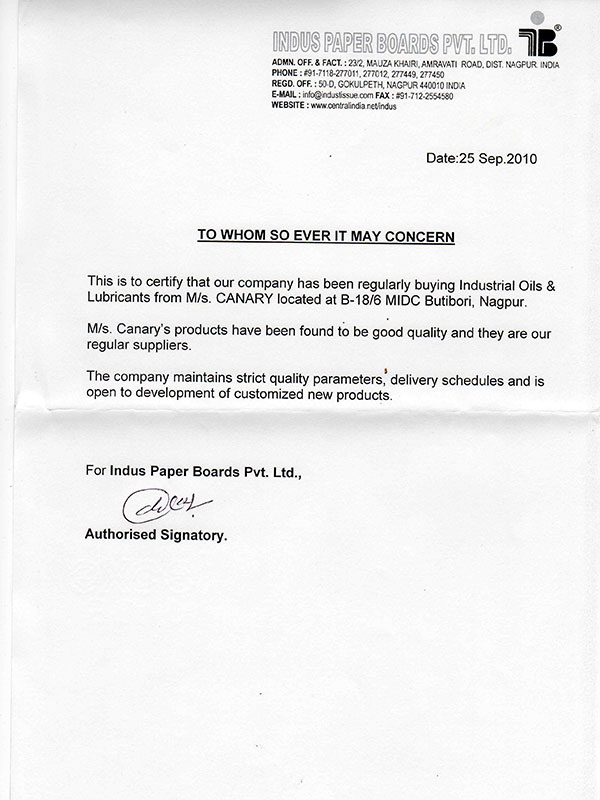 Indus Paper, India's largest tissue paper manufacturer
Some of our valued customers
Some of our valued customers for our earlier business of lubricants included the following companies
Cement
Murli Industries Ltd (Cement Division)
Purohit Cement Pvt Ltd

Construction Township
Fire Arcor Infrastructure Pvt Ltd
Construction Power
Bygging India Ltd
Era Infra Engineering Ltd
Kamal Kumar Jain
OCB Engineers, Pune
Pratibha Industries
SEAM Industries Pvt Ltd
Construction Road
DP Jain & Co Infrastructure Pvt ltd
Multiurban Infra Services Pvt Ltd
SC Debnath
Shubh Shiv Construction Pvt Ltd
Vijay Nirman Company Ltd

Education
Montfort School
SVSS College of Engg & Research

Engineering
AMCL Machinery Ltd
Apex Knives Pvt Ltd
Chanvim Engineering India Pvt Ltd
G.G. Dandekar Machine Works Ltd
Mecgale Pneumatics Pvt Ltd

Explosives
Cdet Explosives Industries Pvt Ltd
Chamundi Explosives Pvt Ltd
Commercial Explosives
Samir Explosives
Solar Industries India Ltd

Food
Ankur Seeds Pvt Ltd
ADM Agro Industries India Pvt Ltd
Charbhuja Industries Pvt Ltd
Dinshaw's Dairy Foods Ltd
J.R. Oil Mill, Hinganghat (Baid Group)
Lasenor Charbhuja Foods Pvt Ltd
Ruchi Soya Industries Ltd
Shree Surya Soft Drinks Pvt Ltd

Fabrication
SS Fabricators
Vineengineer Enterprises

Ginning & Pressing
Asha Pura Agro Products Pvt Ltd
Babasaheb Kedar Ginning & Press Soc
Balaji Ginning & Pressing
Bhagawathi Cotton Industries
Ganga Trading Co (Panpaliya Ginning)
Ganga Trading Co (Satpuda Ginning)
Gima Manufacturing Pvt Ltd
Gurukrupa Cotgin Pvt Ltd
Harishankar Cotspin
J.R. Textile (Baid Group)
Jagdamba Agro Industries
Kala Seed
Kesar Textile Park Pvt Ltd
KK Industries
Mahalaxmi Cotton Ginning Mills
Mahalaxmi Cotton Mills
Maheshwara Enterprises
Om Sai Ginning & Pressing
Om Shakti Agros
Rajani Ginning & Pressing Factory
Rajashree Cotton Industries
Rana Oil Industries
Seetharama Cotton Industries
Shri Balaji Ginning Factory
Shri Gajanan Cotspin
Shri Gajanan Ginning Pressing Factory
Shri Ganesh Industries
Shri Lakshmi Cotton Ginn & Press Mills
Shri Sudarshan Cotton Industries Pvt Ltd
Sindhu Ginning & Pressing Factory
Tirupati Agro Industries
Todey Patil Industries
Vijayak Cotex
Mineral Processing
Ayushi Minerals & Processors Pvt Ltd
Super Fine Minerals

Packaging
Ami Pyroflex Pvt Ltd
Chowdhury Packagers
Gondwana Packers (P) Ltd
Ideal Wrappers
Kushal Corrupack
Packaging Products
Safety Packagers Pvt Ltd

Plastic
Anant Extrusions Ltd
Bharat Plastic Industries
IRA Agrotech & Research
Jayesh Plastics
Miltech Industries Pvt Ltd
Perfect Polypact
Soni Polymers Pvt Ltd
Supriya Packaging Pvt Ltd
Zenith Metaplast Pvt Ltd

Mining
A.P. Trivedi Sons
Anik Industries Ltd
Eastern Mining Contractors Pvt Ltd
JK Minerals
Mahalaxmi Mines & Minerals
VJ Trivedi Mining Contractor Pvt Ltd

Others
Fun & Food (Amusement Park)
Hotel Sun & Sand
KK Bricks

Paper / Corrugation
Ellora Paper Mills Ltd
Gaurav Paper Mills Ltd
Gondwana Enterprises Pvt Ltd
Hardoli Paper Mills Ltd
Indus Paper Board Pvt Ltd
Padmavati Disposable
Print Pack
Rasik Papers
Vynkatesh Board Mills Pvt Ltd
Venkatesh Corrugate

Power
Enmas O&M Services Pvt Ltd
Indorama Power Plant
ISMT Power Plant
Reliance Infrastructure Ltd

Printing
Ameya Printers
Narayana Printing & Publishing

Retail
Manika Enterprise
Pankaj Automobiles
Shree Durga Automobiles
Shree Shyam Automobiles
Vee Motors

Sponge Iron
Chaman Metallics Ltd
Grace Industries Ltd
Shree Sidhabali Ispat Ltd
Sunil Sponge Pvt Ltd
Steel
Associated Steel Industries
Castwel Industries
Dhiraj Alloys & Stainless Steel Pvt Ltd
GEC Infrastructure Co
Goel Dhatu Udyog Pvt Ltd
Hindustan Udyog Ltd (Formerly ACC Nihon)
KJV Alloy Conductors Pvt Ltd
Mahalaxmi Dhatu Udyog Pvt Ltd
Mathuria Metal Industries
Meenakshi Re-Rollers Pvt Ltd
Mini Iron & Steel Pvt Ltd
Orange City Steel Industries Pvt Ltd
Precision Drawell Pvt Ltd
Ramsons Casting Pvt Ltd
Ramsons TMT Pvt Ltd
Steel
Saitron Engineers PvtLtd
Salasar Alloy & Steel Industries Pvt ltd
Sanvijay Rolling & Engineering Ltd
Shanti Industries
Sharda Ispat Ltd
Shardashree Ispat Ltd
Shiv Mangal Ispat
Shridhar Casting Pvt Ltd
Shridhar Steels Pvt Ltd
Sri Vekatramana Engineering
Sunder Rolling Mills Pvt Ltd
Sunil Steels
Tarini Bright Steels
Ujjawal Ispat Pvt Ltd
Vansh Industries
Vidarbha Grinders Pvt Ltd
Vinar Ispat Ltd
Yogesh Tubes Pvt Ltd

Textile
Gimatex Industries Pvt Ltd
Indorama Synthetics (I) Ltd
Indoworth Ltd
Kesar Textile Park Pvt Ltd
Morarjee Textiles Ltd
PATCOSPIN
Priyadarshini Sahkari Soot Girni Ltd
Purohit & Co (Spinning Division)
Rana Denim Pvt Ltd
Reliance Industries Ltd
The RSR Mohota Spg & Wvg Mills Ltd
Uniworth Ltd

Transmission Tower
Amitasha Enterprises
Era Buildsys Ltd
IVRCL Infrastructures & Projects Ltd
KEC International Ltd
Tata Projects Ltd
Unitech Power & Transmission Ltd

Transport
Cement Carriers
Dashmesh National Roadways (B.S.)
Jaswant Singh Transport
KC Transport (Hansa Travels)
Kema Logistics & Manufacturers Pvt Ltd
SB Enterprises, Wani
Sri Lalitha Equipments
Surya Poojta Transport

Welding Electrodes
Diffusion Engineering Ltd
Esab India Ltd
Mahalaxmi Coal Pvt Ltd

Workshops
JS Motors
Kamdar Automobiles
Lokseva Automobiles
Maharashtra Vehicles Pvt Ltd
Puja Vaishnavi Repairing Centre
Tushar Automobiles
Shree Motors (Akola)
Shree Motors (Nagpur)
Spannkraft Hydrosystems Pvt Ltd